New to Ingress, battling battery life issues
01-24-2014, 10:19 AM
woodgrain
Junior Member


Posts: 1
Joined: Jan 2014
Reputation: 0
New to Ingress, battling battery life issues
Today is my first day off my mountain [snow and ice having kept me cooped up previously] and trying out Ingress--and sadly what I've discovered is that my year old HTC One X+'s [Android 4.2.2 build] battery is beyond crap for this.  I charged to full before we left; my neighbor and I drove and walked around for an hour and change, and even plugged into the car [not a great way to charge, admittedly], my phone was completely dead by the end, while his Samsung Galaxy S4 [rooted, unlike mine] was doing just fine at 75 or 65%.  Suggestions?  I'm not completely opposed to getting another phone, and would love suggestions on that front as well, as this one has given me grief in other ways, but I prefer to wait the next 11 months for an upgrade rather than buy out of pocket.  Would love to hear others's thoughts and experiences.  Feel free to contact me off-community as well, if you prefer not to clutter up this space.
01-29-2014, 07:44 PM
NTLinhHaHa
Junior Member


Posts: 2
Joined: Jan 2014
Reputation: 0
RE: New to Ingress, battling battery life issues
Why don't you buy a spare battery? (I'm not good at HTC, so.. if that's not possible, how about a small handy charger?)
You charge the charger at home, then when you are on the way you can plug your phone in?
01-31-2014, 03:29 PM
(This post was last modified: 01-31-2014 03:30 PM by spreader.)
spreader
Junior Member


Posts: 11
Joined: Jan 2013
Reputation: 1
RE: New to Ingress, battling battery life issues
Hello
I had your problem, and I fixed it buying one of these external battery chargers
You can find them on eBay sold for about $20. My battery charger for Ingress let me use 5 full charges, so basicly I can play for 2 days without stopping
02-07-2014, 07:44 PM
KaityVoivre
Junior Member


Posts: 2
Joined: Feb 2014
Reputation: 0
RE: New to Ingress, battling battery life issues
Yep, borrowed one of those external batteries from a friend for DICE 2014 here in Vegas.
I'd suggest a leg pouch for it, or wear a hoodie with a large front pocket to carry it, for me, I just put it in my purse and went on.
It's a little bulky, so think about that before you go out there with it.
04-17-2014, 09:57 AM
Asuna
Junior Member


Posts: 43
Joined: Apr 2014
Reputation: 0
RE: New to Ingress, battling battery life issues
Hey guys! Check this out! I just found it over the internet. It looks handy and eco-friendly somehow.
Product Specifications
Messenger-style backpack with built-in 6 watt solar panel
TSA-approved for carry-on luggage
Compatible with iPhone 5 and earlier, all iPads (inc. mini), most Android phones and tablets, Blackberry, plus many e-readers, cameras, and other electronics
Battery:
Capacity: 2,400mAh
Input: 5V/700mA
Output: 5V/800mA
Materials: water-resistant cotton polyester blend
Exterior Dimensions: 18" high x 13" wide x 6" deep
Interior Dimensions: 15" high x 12 1/2" wide x 5 1/2" deep
Capacity: 20 liters
Padded Laptop Sleeve: 13" high (could be left open for additional height) x 12" wide x 1 1/2" deep
Straps: adjustable from 19" - 37"
Closure: heavy-duty hook-and-loop, 2 solid, side-squeeze, plastic clasps
Included: 8-pin (Lightning), 30-Pin, MicroUSB, MiniUSB adapters (in zippered pouch); USB cable for charging on cloudy days
Weight: 2 lbs. 3 oz.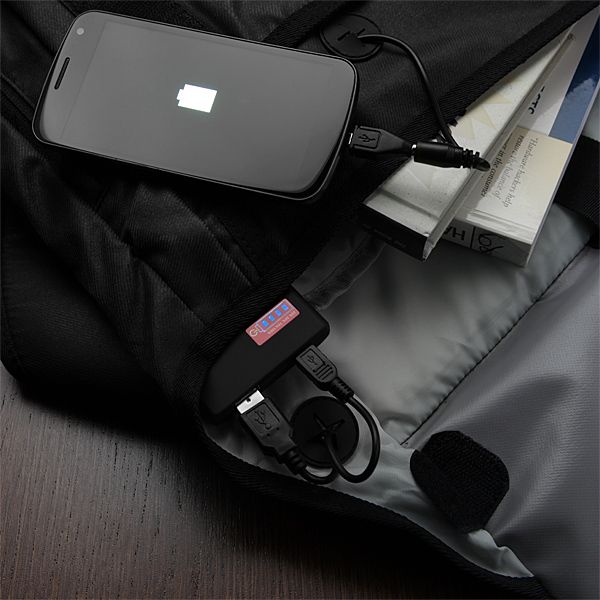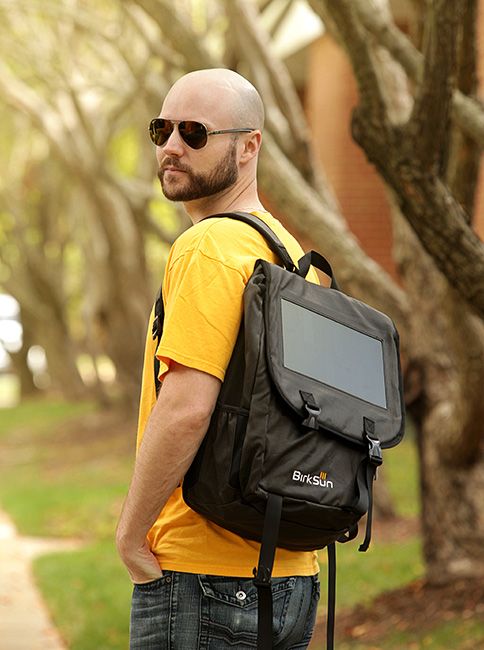 The BirkSun 6 Watt Solar Backpack consolidates both of those functions, which makes it handy to have around any time, not just during the apocalypse.
The shoulder straps have a little padding, but most of the padding is reserved for your laptop inside the bag. Flip up the messenger-bag style flap, and you'll find a front utility pouch, perfect for tablets, the aforementioned laptop padded sleeve, and cords threaded through cleanly and conveniently, as well as an area for your pens and business cards. A zipper on the side lets you get to your phone without opening the flap. There's even an elastic water bottle holder on the side and a handle on top. Basically, BirkSun's trying to convince you this isn't your bag for when you need a solar panel. It's your bag for always.
The battery is stored away in its own pocket. Just one hour of sunlight generates a 25% charge boost for most smart phones. No sunlight? That's okay. There's a USB cable included so you can charge up at home and be ready to go on cloudy days.
11-27-2014, 07:40 AM
Substruct
Junior Member


Posts: 5
Joined: Nov 2014
Reputation: 0
RE: New to Ingress, battling battery life issues
Hi Friends, I found amazing game project Ingressions on kickstarter. This is real time military strategy like a "WarCraft", "StarCraft" or "Red Alert", also on a real world map like Ingress. Look at that. So cool! My dream.
http://kck.st/1p9m7nm
User(s) browsing this thread:
1 Guest(s)